Improve your Colorado home's indoor air quality with these top-of-the-line products. They can increase the efficiency of your HVAC equipment, improve the comfort level in your home, and help purify the air you breathe in.
Models subject to availability
Select a Model to Learn More: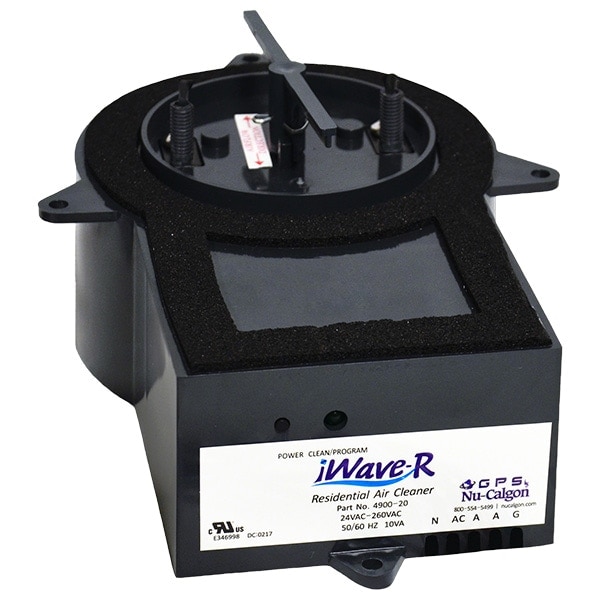 iWave -R
With technology installed in over 200,000 applications, iWave-R is the world's first self-cleaning, no maintenance needlepoint bi-polar ionization generator designed specifically for treating air in residential duct A/C systems. As the air flows past the iWave-R, positive and negative ions actively purify the supply air, killing mold, bacteria and viruses in the coil and living space. The ionization process also reduces allergens, smoke and static electricity, as well as controlling odors (cooking, pet, VOCs) and other particles (no more sunbeams) in the air without creating ozone or any harmful byproducts.
iWave-R treats the air in any brand of residential duct air conditioning systems up to 6 tons (2400 CFM) in size with no maintenance and no replacement parts. Designed for universal mounting, the iWave-R typically installs inside or outside of duct, or it attaches magnetically near the indoor fan in the air handler. iWave-R always works at peak performance, producing over 160 million ions/cc per polarity (320 million total ions/cc), more than any other ionizer product on the market. Its patented self-cleaning design includes a programmable cleaning cycle that can clean the emitter brushes every 1, 3, 5 or 10 days. The iWave-R is factory set to clean every third day, which is adequate for a typical installation. iWave-R does not create "black walls" as negative-only ionizer products will do.
Features
Patented self-cleaning design ensures ongoing peak performance
Needle point bi-polar ionization actively treats air in the living space
For duct systems up to 6 tons (2400 CFM)
Universal voltage input - 24VAC to 240VAC!
Universal mounting with magnets
Flexible design with no replacement parts
Kills mold, bacteria and viruses
Reduces allergens, odors, smoke, static electricity and other airborne particles
Keeps coil cleaner
Programmable cleaning cycle
Alarm contact option for secondary notification
UL and cUL approved
Three-year warranty*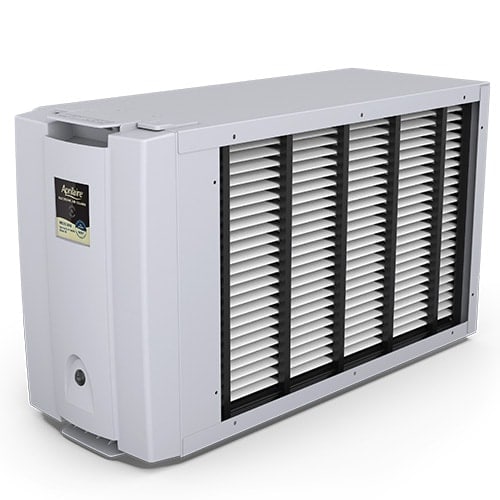 AprilAire Electronic Air Purifier - Model 5000
The Model 5000 uses a combination of electrostatic technology and traditional air filter to remove up to 89% of airborne particles* as small as 0.3 microns.
Tried, true, and tested, the Model 5000 is installed into your central heating and cooling system by a local HVAC professional.
Features
Prevents dust build up in your house
Includes an air cleaner controller
Improves energy savings by keeping your HVAC equipment clean
Maximizes the life of your heating and cooling equipment
Performs silently and invisibly 24 hours a day on demand
Eliminates airborne bacteria-sized particles and fungi
Removes pet dander and respirable dust, which can trigger asthma
Captures airborne particles the size of tobacco smoke and smog
Removal of airborne virus-sized particles and ultra-fine particles - down to 0.3 microns in size.
Maintenance is quick and infrequent and takes only 20 minutes
Traps airborne pollen, mold, and spore-sized particles less than a micron in size (up to 120 times smaller than a human hair)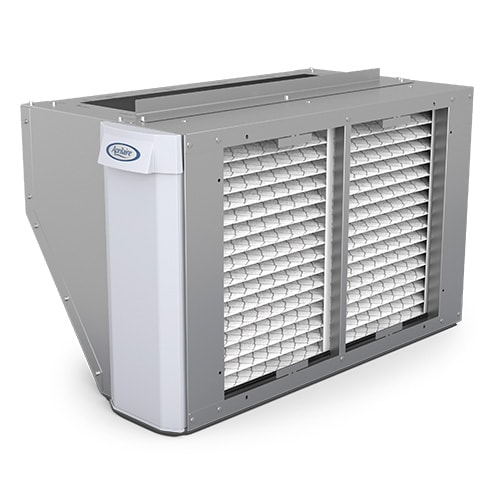 AprilAire Air Purifier - Model 1610

Protect your family and your HVAC system with the Aprilaire 1610 Easy Install Whole Home Air Purifier. The 1610 comes with a 410 Clean Air Filter, which will remove more dust and particulate from your living space. This model has a nominal size of 16" x 25" - and is easy for contractors to install thanks to its built-in, reversible angled cabinet extension.
Every Genuine Aprilaire Air Filter is manufactured and sold with our Pure Fit Promise, which guarantees that our filters will fit flawlessly into your Aprilaire Whole Home Air Purifier and deliver purer healthier air. Click here to learn more about the Aprilaire Pure Fit Promise.
Features
Protects your HVAC system and offers superior filtration performance to 1" filters
16"x25" nominal size
Painted steel cabinet
Features a built-in, reversible angled cabinet extension for easy installation.
Comes with 410 Clean Air Filter, which has more than 9 times the filtration area found in 1" filters
Guaranteed with our Pure Fit Promise: Self Seal™ technology, interlocking rails, and Clean Coil Commitment
Easy to maintain - simply change the Air Purifier's filter once up to every 12 months
Compatible with the 413 Healthy Home Filter, 413CBN Odor Reduction Filter, and 416 Allergy & Asthma Filter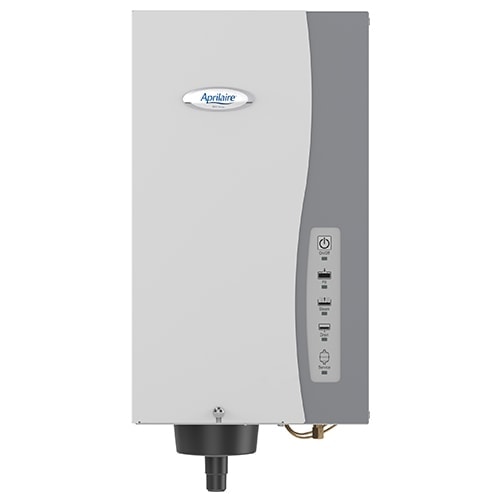 AprilAire 800 Whole House Steam Humidifier
High Output Humidifier
Aprilaire Model 800 steam humidifiers use electrode technology and are simple to install, operate, and maintain. With electrode technology, electrical current flows between submerged electrodes, resistance of the water to the electric current heats the water. The submerged electrodes are found in a replaceable canister. At the end of a humidifier season, the canister - including the electrodes, is replaced. No cleaning, no scrubbing, simply replace the canister and you're ready for the next humidifier season. Electrode technology requires impurities in the water to promote the transfer of electricity. For this reason, water filtration is not required with electrode technology, minimizing the complexity of the installation and on-going operating costs.
Features
Full coverage up to 6,200 square feet in tightly built homes. Choose from 6 levels of output adding 11.5 to 34.6 gallons of moisture into the air per day based on voltage and installation
Ideal for homes in arid, desert climates
Purified water not required Electrode technology requires impurities in the water to promote the transfer of electricity. Water filtration is not recommended - minimizing installation complexity and operating costs
No white film or dust is left behind for you to clean up like other steam humidifiers. Aprilaire humidifier just provide clean, humidified air
Dual sensor 24/7 auto mode continually monitors and responds to both outdoor temperature and indoor relative humidity to deliver optimum humidity throughout the home - simply set it and forget it
Convenient digital control shows percent humidity, lights indicate humidifier is running and when service is needed, and Blower Activation switch sets humidifier to run continually, or only when the furnace runs
Aprilaire Humidifiers can help you maintain optimal humidity in your home of 30% - 60% which has been shown to reduce the incidence of respiratory infections and symptoms related to allergies and asthma by minimizing the formation of bacteria and viruses, fungi, and dust mites. In addition, you'll feel more comfortable while also preserving items in your home susceptible to damage from changing humidity or dry conditions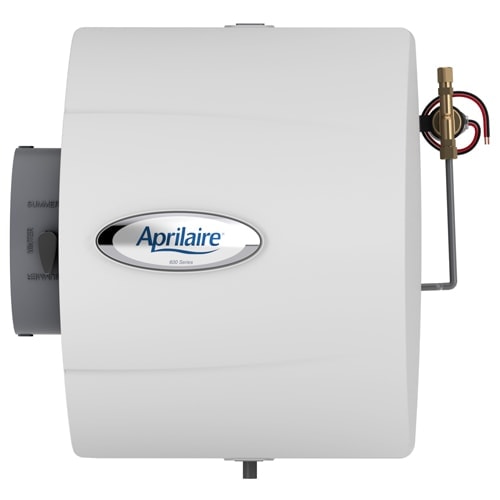 AprilAire 600 Whole House Humidifier

Automatic High Output Furnace Humidifier

Aprilaire introduced the first evaporative humidifier for forced air furnace systems back in 1954. Since that time, Aprilaire continues to lead the industry in whole home humidification systems. Our evaporative humidifiers work by piping water into the distribution tray located at the top of the humidifier. The water is uniformly distributed across the width of the tray and through a scientifically designed system of outlets. It flows by gravity over the water panel evaporator. Dry, hot air from the HVAC system is moved through the moisture-laden water panel evaporator. Natural evaporation takes place, the water is turned to vapor, and the humidified air is circulated throughout your home.
Features
This humidifier was designed and manufactured in the U.S.A. by Aprilaire - the inventor of the whole home evaporative humidifier, and the leader in indoor air quality solutions
Full coverage up to 4,000 square feet in tightly built homes with a capacity of 17 gallons per day
Automatic humidifier with dual sensors to monitor and respond to both outdoor temperature and indoor relative humidity to deliver optimum humidity 24/7 throughout the home - simply set it and forget it
Convenient digital control shows percent humidity, lights indicate humidifier is running, when to change the water panel, when service is needed, and Blower Activation switch sets humidifier to run continually, or only when the furnace runs
Aprilaire Humidifiers can help you maintain optimal humidity in your home of 30% - 60% which has been shown to reduce the incidence of respiratory infections and symptoms related to allergies and asthma by minimizing the formation of bacteria and viruses, fungi, and dust mites. In addition, you'll feel more comfortable while also preserving items in your home susceptible to damage from changing humidity or dry conditions